Pilates in Altrincham
Quote from Living Edge Magazine: "Be the best you can be with PL Pilates. In our busy daily lives it's important to find a balance, and take time out. Pilates is a great way of ridding your body of the days tensions, while also gaining excellent all over body tone, both internally and externally. PL Pilates run by Pat and Laura Pettener, offer excellent weekly classes and more personal one2ones that are suitable for all abilities".
"This allows the body to function more efficiently resulting in general benefits with regard to overall health and appearance.This gentle controlled approach to exercise means that it gives much longer term results and is suitable for first time exercisers yet it can still challenge top athletes."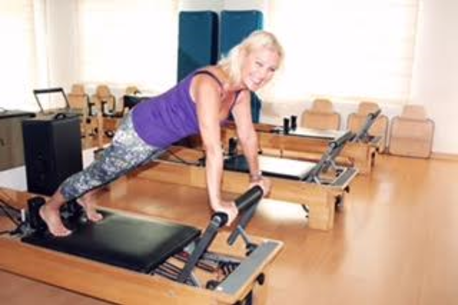 What is Pilates?
Pilates is a precise gentle exercise to strengthen the postural muscle system. Balancing strength with flexibility and alignment releasing unnecessary tension. This improves core stability, posture and muscle tone, giving more body awareness. Movements originate from inside your body not outside. The basic techniques of Alignment, Breathing, Centring, Release, flowing movements are taught initially helping to create stamina before moving on to more challenging work.
The classes are small to enable the teachers to give personal attention where needed. No more than 12 in any one class. We also offer private 1-2-1 lessons and reformer machine work.
Laura

There are many different classes to suit all levels from complete beginners, those people being referred from the medical professions up to experienced bodies!
Pat

View Classes
Find a class suitable to your level and on a day and time that suits you. We also offer private lessons.
Book Class
e-mail Laura@plpilates.co.uk
or telephone 07867 914 054
Attend Class
Before attending a class you need to have completed an enrolment form . All mats and equipment are provided just wear comfortable clothing to be able to move arround freely